Presentation'Touch
Presentation'Touch is a multi-touch and multi-user application to interactively present documents, videos and photos on Windows® 10, 8, Windows® 7 and Samsung SUR40 with Microsoft® Pixelsense™. 
Presentation'Touch is a 3-in-one multi-touch and multi-user application allowing several users simultaneously to discover your content through interactive brochures, videos, and photos.
With Presentation'Touch, your Powerpoint, Word and Excel documents* become not just a presentation - but an experience. Along with photos and videos, the content is made interactive on a vertical or horizontal touch screen and can be shared with others instantly from within the app. Content is displayed as both a stack and in a tiled filmstrip allowing users to select exactly what they want.
The base price includes up to 10 videos in WMV format, 50 images in JPG or PNG, and 5 brochures*. Users then have the opportunity to share your content, either through traditional means (Email and USB) or via social media (Facebook and Twitter). For a supplemental cost, both sharing options can be included, as well as additional features such as a screen saver, web browser, and object recognition for compatible devices.
*PPT, Word and Excel files have to be converted into XPS format. For a supplemental cost of $1,000 an automatic XPS converter can be included in the Presentation'Touch package.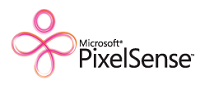 - Documents, photos and videos viewing: the users can turn the pages of a document, view pictures and launch videos with a simple touch and simultaneously.
- Up to 5 brochures (each up to 20 pages), 10 videos and 50 photos can be added to the application.
- All information can be shared through email, USB or social media based on package selections.

- A concrete and playful presentation of documents and brochures
- An attractive tool
- A modern, innovative image of the company
- A magic customer experience

Presentation'Touch can be used everywhere! In shops, hotels, restaurants, banks, administrations, or tradeshows to consult documents in an attractive and innovative manner.
Presentation'Touch is ready-to-use and compatible with Microsoft® Surface® 1.0, Samsung SUR40 with Microsoft® Pixelsense™, and all hardware supports running Windows® 10, 8 and 7: touch screen units, screens, laptops, PC tablets, walls, etc.
The application includes an extranet system, giving a complete freedom for managing updates and modifications of the content (documents, videos and photos).
Format of images has to be PNG or JPG.
Format of videos has to be WMV.
Format of documents has to be XPS unless supplemental converter is purchased.
5 licenses per package, with additional available for a supplemental cost.
The AFTER-MOUSE.COM logo is displayed in the application and shall not be removed.

A touch screen (tablet PC, screen, wall, laptop, etc.) responding to a minimum of 2 touches and running Windows® 10, 8 or 7 is required for the use of this application, or with Samsung SUR40 with Microsoft Pixelsense.
For use with Samsung SUR40 with Microsoft Pixelsense, Presentation'Touch requires installation of the Microsoft Surface SDK 2.0. If not installed by default, please consult http://www.microsoft.com/en-us/download/details.aspx?id=26716
?
?