Motion Recognition

Motion recognition offers a totally new experience: no physical contact is needed - remote interactions by means of simple physical movements and natural human gestures enable the user to control the interface. A magical experience!
Applications available in this section are compatible with Kinect™ for Windows (Prime Sense's technology).
All motion recognition applications have an integrated back office statistics gathering tool that measures their market impact (based on your key performance indicators) on your business. These detailed statistics can show the number of people who used the application. They can also show the number of product, brochure, video views and the time spent by the customer on each element.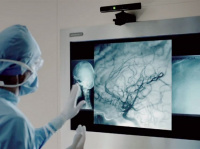 Clean'Move - a mouse driver that eliminates the need for touch, built for clean environments, harnessing the power of Kinect™ for Windows®.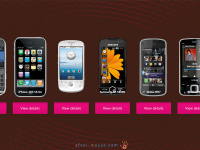 Retail'Move, a new way of selling with Kinect™ for Windows®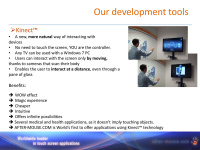 Presentation'Move, a new and innovative way to present with Kinect™ for Windows (PrimeSense's technology)
Discover possibilities offered by motion recognition - Custom made applications and price on request.
?
?