Pong'Touch
Pong'Touch is an update of the family classic, for Windows® 10, 8 and 7, Samsung SUR40 with Microsoft® Pixelsense™ 1.0 and Microsoft® Surface™ 1.0.
Pong'Touch is an adaptation of the famous arcade game, where up to 4 players pass and deflect balls around the virtual table. Using their finger, players move their goal protector back and forth to prevent balls from entering their own goal while trying to aim toward the other players' goals. Each goal scored against them lowers a player's health, which is indicated by their colored meter. The last person standing wins!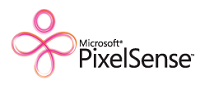 - Up to 4 players.
- Choose of the racket from a simple touch to the screen.
- Life bar for each player.
- Difficulty rises with time with more and more balls to be played.
- Goals are closed if too many balls entered them, i.e. if the life bar of the player is empty.
- Game is won when only one player is left.

- Energized greeting spaces.
- A modern image of the company.
- A seduced, faithful customer base.
- Optimized waiting times.
- A fun way of educating and entertaining children.
- A unique differentiating service.
- A polished product or service offer.

Pong'Touch can be used in amusement parks, shops, waiting rooms, lounges, etc.
Pong'Touch is ready-to-use and compatible with Samsung SUR40 with Microsoft Pixelsense, Microsoft Surface 1.0 and all hardware supports running Windows 10, 8 and Windows 7: touch screen units, screens, laptops, PC tablets, walls, etc.
1 single license per hardware support.
The AFTER-MOUSE.COM logo is displayed in the application and shall not be removed.
A touch screen (tablet PC, screen, wall, laptop, etc.) responding to a minimum of 2 touches and running Windows 10, 8 or 7 is required for the use of this application, or with Samsung SUR40 with Microsoft Pixelsense.
For use with Samsung SUR40 with Microsoft Pixelsense, Pong'Touch requires installation of the Microsoft Surface SDK 2.0. If not installed by default, please consult http://www.microsoft.com/en-us/download/details.aspx?id=26716
?
?